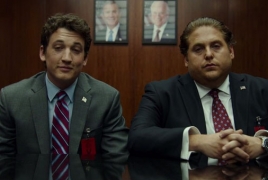 July 1, 2016 - 15:28 AMT
PanARMENIAN.Net - Warner Bros. Pictures has released a new trailer for "War Dogs". It gives a deeper look into two ambitious young men, Jonah Hill's Efraim Diveroli and Miles Teller's David Packouz, who become arms dealers for the U.S. government. The trailer also offers more scenes which feature Bradley Cooper, AceShowbiz said.
The trailer opens with David getting a phone call from his girlfriend, Iz (Ana de Armas), as she already knew that he lied to her about his business, before he and Efraim are being chased by heavily armed enemies in Iraq. "You told me you guys are selling bed sheets," she confronts him. "I also told you that we're selling other stuff too," David says, referring to the weapons dealing he and Efraim do.
"This isn't about being pro war, this is about being pro money," Efraim is seen persuading David in one scene. Several scenes show the two young men living high life, using drugs, counting money, driving fancy red car and even going to casino. Other scenes show Cooper's character which likely takes big part in the film as he tells the pair of the benefits and dangers they'll face.
Based on a true story, "War Dogs" follows two friends in their early 20s living in Miami Beach during the Iraq War who exploit a little-known government initiative that allows small businesses to bid on U.S. Military contracts. Starting small, they begin raking in big money and are living the high life.
However, the pair get in over their heads when they land a 300 million dollar deal to arm the Afghan Military - a deal that puts them in business with some very shady people, not the least of which turns out to be the U.S. Government.
"War Dogs", previously known as "Arms and the Dudes", is directed by Todd Phillips who also wrote the script with Jason Smilovic and Stephen Chin. It also stars J.B. Blanc and Barry Livingston. The film hits U.S. theaters on August 19.