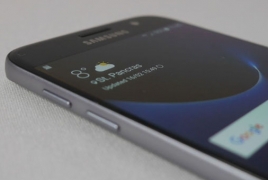 July 12, 2016 - 10:43 AMT
PanARMENIAN.Net - Samsung Galaxy S7 Active is supposedly one of the most rugged smartphones on the market - but it seems to have trouble with water, Digital Spy said.
Despite being billed as a water-resistant device like its predecessors Galaxy S7 and Galaxy S7 Edge, the S7 Active failed a series of tests devised by Consumer Report.
The trade publication found two separate phones unresponsive - with moisture leaking into the SIM card and camera - after being dunked in 2.12 pounds-per-square-inch of water in a pressurised tank.
As you can see in the video, both devices become unusable following completion of the experiment - which tests Samsung's vow that its devices can survive under 5 feet of water for 30 minutes.
Samsung issued a statement, saying: "The Samsung Galaxy S7 active device is one of the most rugged phones to date and is highly resistant to scratches and IP68 certified.
"There may be an off-chance that a defective device is not as watertight as it should be."