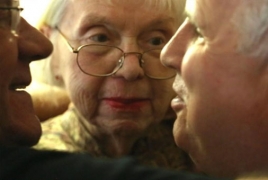 July 12, 2016 - 13:03 AMT
PanARMENIAN.Net - Music Box Films has acquired U.S. rights to the post-Holocaust documentary "Aida's Secrets" from filmmakers Alon Schwarz and Shaul Schwarz ("Narco Cultura"), Variety reports.
The film had its world premiere at Hot Docs earlier this year and won the Audience Award at Docaviv in Israel last month. Music Box Films plans a national theatrical release and said it has "high hopes" for Academy Award consideration.
It focuses on brothers Izak and Shep Szawelewicz; their mother Aida; and their father Grisza, who died in 2008. The parents found themselves in the Bergen-Belsen displaced persons camp in Germany, which had been established in July, 1945, in a former German army camp near the Nazi concentration camp Bergen-Belsen, which was liberated three months earlier.
The brothers were born in the displaced persons camp and given up by their mother when they were still infants, then reunited six decades later.
Ed Arentz, managing director of Music Box Films, said, "Alon and Shaul follow the barest hints of a family secret to reveal a riveting and stirring tale of survival, love and betrayal, brotherhood and belonging. We look forward to bringing this unforgettable story to US audiences."
The deal was negotiated by Andrew Herwitz of the Film Sales Company on behalf of the filmmakers with Music Box's William Schopf. Herwitz has closed a theatrical distribution deal in Australia for the film.