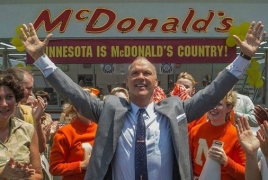 July 14, 2016 - 17:20 AMT
PanARMENIAN.Net - The Weinstein Company is moving "The Founder", its look at Ray Kroc, the man who brought the Big Mac to the masses, into awards season, Variety reports.
The cinematic look at the driving force behind the national expansion of McDonald's has already skipped around the release calendar. It was originally slated to debut on Nov. 25, 2016 before getting moved to Aug. 5, 2016. It will now hit theaters in limited release on Dec. 16, 2016, before going wide on Jan. 20, 2017.
The hope is that Michael Keaton, who plays Kroc, could generate some Oscar chatter and that the film itself might get some love from awards voters. In December, it will face off against "Star Wars: Rogue One" and the Will Smith drama "Collateral Beauty." When it goes wide, it will get competition from "XXX: The Return of Xander Cage" and the horror thriller "Split."
In addition to Keaton, the cast includes Laura Dern, B.J. Novak, and Patrick Wilson. John Lee Hancock, who oversaw "The Blind Side" and "Saving Mr. Banks," directs.
Deadline reported the latest release date shuffle.