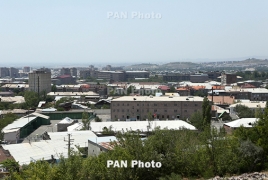 July 23, 2016 - 11:27 AMT
PanARMENIAN.Net - Members of the armed group that seized a police HQ in Yerevan and took everyone inside hostage have agreed to release the captives on condition that a news bureau be established.
The armed group are members of the Sasna Tsrer movement. One police officer was killed, and several more were wounded in a shootout that broke as the members of the group hit the gates of the police department with a Ural track. Several captives have been set free so far. The hostages include Armenia's deputy police chief General Major Vardan Eghiazaryan and Yerevan deputy police chief Colonel Valeri Osipyan. The group demand the release of Jirair Sefilian, the founder of the Founding Parliament who was arrested on June 20, as he and a group of people had allegedly planned to seize premises and communication facilities, including the Yerevan TV tower.
They held a meeting with Director of Armenia's National Security Service Georgi Kutoyan, with Karabakh war hero Vitaly Balasanyan mediating between the parties.
"After reconsidering the issue in the evening, we decided to release the two young police officers as a goodwill gesture before the opening of the media center," Galatv.am cited a member of the group, spokesman of the Founding Parliament Varuzhan Avetisyan as saying.
"Once the center is opened, we'll then arrange meetings with the media representatives, while authorities will provide them with free access to the center."
"The two police officers will shortly be set free, while the other two will be released during the opening of the news bureau," Avetisyan added.