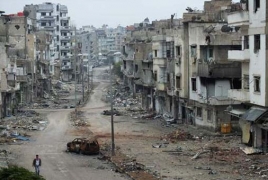 August 1, 2016 - 17:20 AMT
PanARMENIAN.Net - The UN Deputy Special Envoy for Syria on Sunday, July 31 held talks with Syrian officials in Damascus to sound out their position on how to break an impasse hindering the proposed resumption of peace talks around the end of August, Reuters reports.
Ramzy E. Ramzy said he and Syrian Foreign Minister Walid al-Moulem discussed the subject of political transition -- a major sticking point in negotiations between the government of President Bashar al-Assad and opposition groups.
"We discussed how to render this process of political transition which has already been endorsed by the Security Council to be a credible one," Ramzy told reporters.
He did not give details.
UN Syria envoy Staffan de Mistura said last week he aimed to convene a new round of Syria peace talks toward the end of August, and called for a U.S.-Russia deal to support the talks.
Russia and the United States are both conducting air strikes in Syria against Islamic State fighters, but support opposing sides in a wider civil war, with Moscow backing President Bashar al-Assad's government and Washington saying he must leave power.
Talks held in Geneva broke up last April after the opposition delegation quit, accusing the government of ignoring a UN brokered ceasefire.
The Syrian government has said it is ready to attend a next round of talks but the mainstream opposition, which also accuses the government of preventing aid access to besieged rebel-held areas, said it would not attend unless conditions improved on the ground.