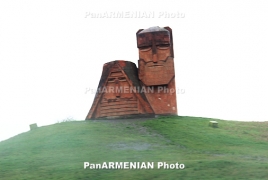 August 1, 2016 - 20:48 AMT
PanARMENIAN.Net - In the aftermath of the siege of Yerevan police station, Armenian leader Serzh Sargsyan held a meeting with the representatives of different segments of society - cultural figures, representatives of healthcare, mass media, public and political figures, members of the Public Council, as well as the representatives of legislative and executive bodies, heads of the standing bodies and Armenian clergy headed by the Catholicos of All Armenians.
Among other issues, the President addressed the Karabakh conflict settlement in his statement.
"I would like to address another issue, which we have spoken about on many occasions. It is about the Karabakh issue and so-called "surrender of lands." My personal statements with regard to our clear-cut position on Karabakh are probably numberless. I repeat once again: there will be no unilateral concessions in the resolution of the Karabakh issue. Nagorno Karabakh will never be part of Azerbaijan. I repeat once again: it is out of question.
I have given my entire life to this. To get to the solution acceptable for my nation, I have always been ready to sacrifice any position, and my life as well. This holds true today, and it will tomorrow," the President stressed in his statement.
Also read: Sasna Tsrer lay down arms: Further bloodshed must be avoided