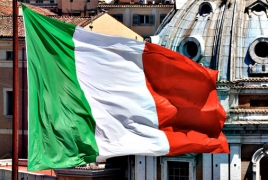 August 6, 2016 - 17:55 AMT
PanARMENIAN.Net - Italy's highest court is set to give a green light on Monday, August 8 for a national referendum due to take place in the autumn on a major constitutional reform, Reuters reported on Saturday citing daily la Repubblica reported.
The referendum, in which people can vote on a series of changes to the country's constitution, will be a big test for Prime Minister Matteo Renzi's government.
Renzi has said he would resign if people voted against the reforms, one of the main pillars of the agenda of his center government.
The new rules, approved by parliament in April, aim at increasing political stability and ending decades of revolving-door governments that have made it difficult to revive the country's debt-ridden economy.
The court had 30 days to examine signatures in a petition needed to call the referendum, which totaled more than the 500,000 threshold required by law, but reached a decision quickly, la Repubblica reported.
The court is due to hold a press conference on Monday to give its approval, the paper said.
Under Italian law, the government will then have 60 days to set a date for the vote, which must be held on a Sunday.
In July, Renzi said the referendum could be held either October 9 or November 6.