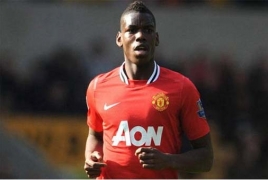 August 9, 2016 - 15:47 AMT
PanARMENIAN.Net - Paul Pogba said "the time is right to go back to Old Trafford" after completing his world-record £89m transfer to Manchester United, BBC News reports.
The 23-year-old midfielder returns after four years away, having left United for Juventus for £1.5m in 2012.
Pogba, who has signed a five-year deal, added: "This is the right club for me to achieve everything I hope to."
Manager Jose Mourinho said the France international could be "the heart of the club" for the next decade.
United will pay the Italian champions 105m euros for Pogba, plus five million euros (£4.5m) in performance-related bonuses, and other costs, including five million euros if Pogba signs a new contract.
The fee surpasses the £85m Real Madrid paid Tottenham for Wales forward Gareth Bale in 2013.
The announcement was made by United just after 00:30 BST on Tuesday, with a glossy video showing the player - with a red devil marked into his hair - emerging from the shadows.
It was followed by a series of sponsor videos, including one with English rapper and grime artist Stormzy, whose most successful song to date is 'Shut Up'.
Pogba, who helped hosts France reach the Euro 2016 final, has won the Serie A title in each of his four seasons at Juventus.
He is Mourinho's fourth signing at United, after Ivory Coast defender Eric Bailly, Swedish striker Zlatan Ibrahimovic and Armenia forward Henrikh Mkhitaryan.
It is the first time in 20 years an English club has set a world-record transfer fee, after Newcastle United paid £15m to sign England striker Alan Shearer from Blackburn Rovers.
Pogba joined United from French club Le Havre in 2009 as a 16-year-old, but made just seven appearances before his contract expired in July 2012.
He has made 178 appearances for Juventus, scoring 34 goals, and helped the club reach the 2015 Champions League final.
The Serie A side had offered him a new contract, while Real Madrid were also interested in signing him.
Pogba said his mother told him he would return to Old Trafford and that it was his "destiny".
Speaking to MUTV, he added: "It was like I'd just come back home. I just went for a holiday."
Pogba said he had spoken to Mourinho "a few times", as well as talking to France team-mates who had worked under the former Chelsea boss.
"He gave me energy, he gave me positivity," said Pogba. "They all told me he's the coach for me - he will make me improve a lot and make me work harder."
In a series of messages to Juventus supporters on social media, Pogba said: "Goodbye means nothing, it is the time we spent together that matters. I will bring with me a piece of you and leave you a little piece of me."