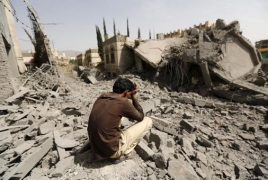 September 7, 2016 - 10:38 AMT
PanARMENIAN.Net - The U.S. military says it has killed 13 members of al-Qaeda in the Arabian Peninsula (AQAP) in air strikes in Yemen, according to BBC News.
U.S. Central Command said in a statement that three air strikes were carried out between 24 August and 4 September in Shabwah governorate in central Yemen.
The statement did not say how the strikes were carried out or give the identities of those killed.
AQAP has taken advantage of Yemen's civil war to seize territory.
The U.S. says the group remains a significant threat to the region, the United States and beyond.
"Strikes against al-Qaeda in the Arabian Peninsula in Yemen put consistent pressure on the terrorist network and prevent them from plotting and executing attacks against U.S. persons, our homeland and allies," the U.S. statement said.
Yemen is in the grip of a conflict between its Saudi-backed government and rebels that the UN says has left 6,600 people dead.
Some 2.5 million Yemenis have also been displaced.