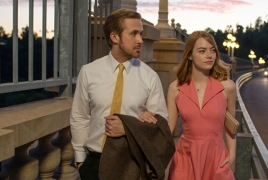 September 19, 2016 - 11:44 AMT
PanARMENIAN.Net - Damien Chazelle's "La La Land" is already considered as one of the frontrunners for next year's Oscar race. After winning the Grolsch People's Choice Award on Sunday, September 18 at the 2016 Toronto International Film Festival, the Ryan Gosling and Emma Stone-led musical is tipped to win at the 2017 Academy Awards, AceShowbiz said.
Damien said in a statement that he was overwhelmed by his latest film taking TIFF's top audience award. "To make this movie was a dream come true, and to see it connect with Toronto audiences in this way is deeply gratifying," he said. "I wanted this film to speak in a way that even the most far-fetched dreams can guide us, and everything about this moment feels surreal."
The People's Choice Award is a category which often leads to victory at the Oscars. The winner at TIFF has gone on to do well at the Academy Awards. Last year, Lenny Abrahamson's "Room" took home the prize and the lead star, Brie Larson, was named as Best Actress. Other previous winners in the category were "The Imitation Game", "12 Years A Slave" and "Slumdog Millionaire".
"La La Land" follows a romantic relationship between a dedicated jazz musician named Sebastian (Ryan) and an aspiring actress named Mia (Emma) who are struggling to make ends meet in Los Angeles. They cross paths and embark on a romantic relationship while exploring the joy and pain of pursuing their dreams.
Directed by Chazelle, the filmmaker behind "Whiplash", the original musical premiered at Venice Film Festival late last month is due for limited release December 9 before opening wide on December 16 in U.S. theaters.
Full List of 2016 TIFF Award Winners:
People's Choice Award: "La La Land", directed by Damien Chazelle People's Choice Award for Documentary: "I Am Not Your Negro", directed by Raoul Peck People's Choice Award for Midnight Madness: "Free Fire", directed by Ben Wheatley Best Canadian Feature Film: "Those Who Make Revolution Halfway Only Dig Their Own Graves", directed by Mathieu Denis and Simon Lavoie Special Citation, Canadian Feature Film: "I Am Not Madame Bovary", directed by Feng Xiaogang Best Canadian First Feature Film: "Old Stone", directed Johnny Ma Prizes of the International Critics (FIPRESCI Prize) for Special Presentations Section: "I Am Not Madame Bovary", directed by Feng Xiaogang Prizes of the International Critics (FIPRESCI Prize) for Discovery Section: "Kati Kati", directed by Marko Skop Discovery Programme Filmmakers Award: "Jeffrey", directed by Yanillys Perez NETPAC Award for Best Asian Film: "In Between", directed by Maysaloun Hamoud Best International Short Film: "Imago", directed by Ribay Gutierrez Best Canadian Short Film: "Mutants", directed by Alexandre Dostie Platform Prize: "Jackie", directed by Pablo Larrain