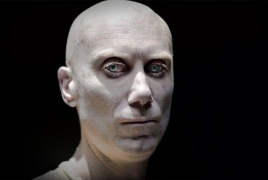 October 18, 2016 - 12:41 AMT
PanARMENIAN.Net - A new image from the upcoming third Wolverine movie has been revealed, AceShowbiz said. Shared by director James Mangold on Twitter, the picture shows a close snapshot of Stephen Merchant as Caliban. He is bald with a very pale skin and unwavering glare.
The 41-year-old actor then took to his own Instagram account to share another image of his mutant character. He wears a cowboy hat in this one and concealed his face with a bandanna. "How I spent my summer," so he wrote in the caption.
Caliban is an albino mutant in the X-Men universe. The character was previously portrayed by Tomas Lemarquis in Bryan Singer's "X-Men: Apocalypse". The cowboy superhuman is an expert in tracking other mutants.
It seems fitting the clue on a picture from the movie that bears the ominous question: "Where are all the mutants?" Mangold also has previously teased the Western setting which was fueled by on-set pictures showing desolate place in the Mexican border.
The upcoming movie titled "Logan" will see Hugh Jackman returning as Wolverine and Patrick Stewart as Professor X. Due March 3, 2017 Stateside, it will follow an older Logan who has turned into an alcoholic. It's expected to be Jackman's swan song as an X-Men.