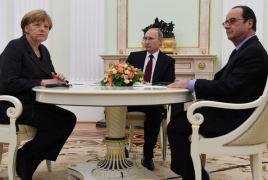 October 20, 2016 - 11:40 AMT
PanARMENIAN.Net - Following tense Normandy Four talks, Russian President Vladimir Putin told reporters he had expressed Moscow's readiness to extend the humanitarian ceasefire in Aleppo for as long as needed. Meanwhile, his EU counterparts accused Russia and Syria of "war crimes," RT said.
German Chancellor Angela Merkel and French President Francois Hollande chose to focus on Russia's role in the Syrian conflict, claiming that Moscow bears "responsibility" for the start of the political process in Syria.
Merkel alleged that the separation of terrorists from "moderate" rebels in Aleppo – something Russia and Syria have been demanding – is an impossible task without a complete ceasefire.
"It will not be possible to separate terrorists from civilians under bombardments," Merkel told briefing.
Hollande in turn called what is happening in Aleppo "a real war crime," calling for "maximum" pressure to be exerted on Russia. The Western powers also expect that Moscow will put more pressure on Syrian President Bashar Assad to stop the bombing of rebel forces controlling eastern Aleppo, which comprise Al-Nusra terrorists and the groups the West considers moderate, such as the Free Syrian Army.
Merkel went as far as calling Russian and Syrian air strikes on terrorist hideouts in eastern Aleppo "inhumane."
"This is a severe blow to the people of Aleppo, and we are sure that it is impossible to separate terrorists and civilians when such bombardments are taking place," she said, according to RT.
While Hollande admitted that "of course, there are terrorists in Aleppo" he stressed that "bombardments should be out of question."
Both German and French leaders did not exclude that they may discuss new sanctions against Russia during the upcoming EU summit.
"We should not exclude this possibility," Merkel said, calling the Berlin negotiations on Syria "tough" and "difficult."