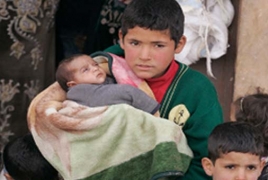 October 24, 2016 - 13:11 AMT
PanARMENIAN.Net - Syrian refugee children have been making clothes for British shoppers, an undercover BBC investigation has found, the news agency reports.
Panorama investigated factories in Turkey and found children had been working on clothes for Marks and Spencer and the online retailer Asos.
Refugees were also found working illegally on Zara and Mango jeans.
All the brands say they carefully monitor their supply chains and do not tolerate the exploitation of refugees or children.
Marks and Spencer says its inspections have not found a single Syrian refugee working in its supply chain in Turkey.
But Panorama found seven Syrians working in one of the British retailer's main factories. The refugees often earned little more than a pound an hour - well below the Turkish minimum wage. They were employed through a middleman who paid them in cash on the street.
Many clothes are now made in Turkey because it is close to Europe and used to dealing with last-minute orders. This allows retailers to get new designs into shops more quickly than if they are made elsewhere.
But Turkey is a challenging place to do business. Concerns are rising about the exploitation of workers after the arrival of almost three million Syrian refugees.