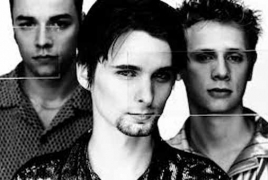 October 31, 2016 - 17:55 AMT
PanARMENIAN.Net - Muse have unveiled a hard rocking new track developed especially for Halloween called 'New Kind Of Kick', Gigwise reports.
On Wednesday, October 26 they released a clip showing #MuseHalloweenSpecial in green and yellow typography, leading people to speculate as to what might be coming.
Earlier on October 28, they put out a three second teaser and a date as a comment to accompany the track - it was obviously just a matter of moments before a new Muse song was born and now it's unveiled in all its black leather glory, Gigwise said.
The latest full new video shows the band sound at their hardest rocking and Matt Bellamy is heard screaming down the microphone with passion and insanity. They've taken on a more straight Iggy and The Stooges-esque rock sound compared to usual, seemingly taking the opportunity to release something festive and not taking themselves too seriously.
In the video they seem to play a twisted Elvis-esque band in black leather while images of Lydia Lunch-esque woman are projected onto the background among other vintage clips suiting Halloween. Drummer Dominic Howard does a good job of looking dead behind the eyes into the camera has a bleeding nose while wind blows around, Gigwise said.
Elsewhere, Muse are planning to push the boat even further that they did on their Drones tour by. News of their next plans - which are in the embryonic stage - were revealed by their tour director Glen Rowe, of Cato Music, who was speaking during the management panel at this week's MUSEXPO Europe conference in London,
"We want to do a stage made of magnets so the band can levitate on other magnets. It's those questions that keep me awake every night of my life. If there are any magnet technicians out there, please come and see me because that's what we're trying to achieve," said Rowe.