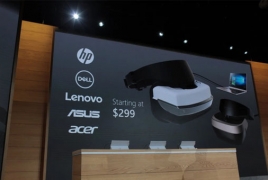 October 31, 2016 - 18:02 AMT
PanARMENIAN.Net - Microsoft's unveiling of VR headsets for Windows 10 got overshadowed by the company's Surface Studio hardware last week, but new details are set to be announced soon. In an interview with Polygon, HoloLens chief Alex Kipman revealed that Microsoft will detail its VR headsets at an event in December. Microsoft is planning to hold two WinHEC events in December, one on December 8-9, and another on December 14-15, The Verge reports.
Microsoft will detail hardware plans for its VR headsets at both events, and they're both designed primarily for hardware makers to better understand the software plans for Windows Holographic. Microsoft has partnered with HP, Lenovo, Dell, Acer, and Asus to produce VR headsets that plug into Windows 10 PCs and provide the Windows Holographic shell and experience. The first devices will start shipping after the Windows 10 Creators Update is made available in March, and devices are expected to debut at $299 and above.
Windows Holographic will be an important part of Microsoft's Universal apps push. If the software giant can convince VR headset makers to let Windows Holographic power its headsets, then it can create a platform around VR to sell games and apps all powered by Windows 10. Microsoft's plan is to lower the price of entry into the VR world, and it's sharing its key HoloLens research and development with partners to enable this.
The first devices will look and feel like traditional VR headsets, without the HoloLens ability to produce mixed reality projections. All of the initial devices will function like VR headsets that tether to a PC, and will support six degrees of freedom and inside-out tracking. As there will be different types of headset pricing, the resulting VR experience will differ. Microsoft hasn't detailed exactly what to expect from these low-cost devices, but we're expecting to hear more about that and the devices themselves on December 8.