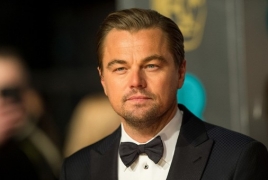 October 31, 2016 - 19:07 AMT
PanARMENIAN.Net - Following up on its announcement from last week, National Geographic just made its new climate change documentary Before the Flood available for free for a limited window of time, TNW reports.
The docufilm starring Hollywood A-lister Leonardo DiCaprio is currently streaming on YouTube, Twitter and a few other platforms, where it will be available entirely free of charge until November 6.
In the documentary, DiCaprio steps into the role of an intrepid environmental investigator, tackling the negative effects of climate change and seeking a viable way to prevent the demise of endangered species, ecosystems and native communities across the planet.
In the process, the actor interrogates a slew of prominent researchers, innovators and public figures including President Barack Obama and Tesla CEO Elon Musk.
National Geographic opted to make Before the Flood available for free as part of its recent environmental initiative aimed at raising awareness of the negative effects of climate change. Since yesterday (October 30), the eco-flick has so far accumulated over 1.2 million views YouTube and 8,800 retweets on Twitter.