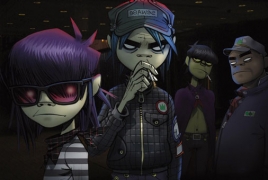 November 3, 2016 - 16:59 AMT
PanARMENIAN.Net - As fans eagerly await the return of Gorillaz, many are speculating that the animated band may have teased a potential release date for new music, NME reports.
Yesterday (November 2) it was reported that the band's fictional guitarist Noodle has set up a page on the dating website OK Cupid. The page has since been deleted, but was asking for "queer, woman, single" who "speaks English and Japanese" and "people, located anywhere, aged 18-99, for new friends".
It also featured the line "Ready? 12:11 xxDA" – which many think could be teasing new music coming either today or on 11 December. It could also refer to a new interview with Noodle and Japanese magazine Numero which was unveiled today.
Fans are debating whether the site was deleted because it was a fake, or if because OK Cupid deemed it unacceptable as Noodle is not a real person.
Damon Albarn and Jamie Hewlett's animated band made their online return in September month across their social media accounts. They have since shared a series of online "stories" helping fans to catch up with the band members, as well as giving several interviews.
However, fans are still waiting for concrete news regarding the band's new album. Their first album since 2011's 'The Fall' was originally due for release this year, but now looks set to drop next year after animator Hewlett said it was "really special" and "can't be rushed".