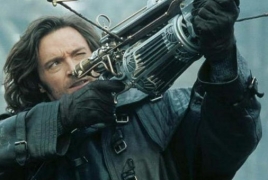 November 3, 2016 - 17:27 AMT
PanARMENIAN.Net - Jon Spaihts has shared new details about what to expect from the upcoming "Van Helsing" movie remake. The writer, who also served as the co-scribe of 2012's "Prometheus" and Marvel's "Doctor Strange", tells Collider that "Van Helsing (2016)" will have different time period from other Universal's shared monster universe movies, AceShowbiz reports.
"It's a new creation," Jon explains. "So it doesn't owe much of a debt to prior films, but it is still a very romantic departure from the character as incepted in Bram Stoker's novel, 'Dracula', where it was a Dutch doctor who figures out a very surprising answer to an odd medical question."
"This is a monster hunter with encyclopedic knowledge, but it's set in the present day and it's just filled with good stuff I'm not allowed to talk about," he continues. "But I'm very excited about this new incarnation of 'Van Helsing', and I hope that as the Universal Monsters Cinematic Universe begins to take flight, we'll see him cropping up in other stories, as well."
Jon also talks about "The Mummy" reboot starring Tom Cruise. He says that "it's not a campy series," before explaining, "Even to go back to the original Universal Monster movies with Lon Chaney and Boris Karloff, they were not really terrifying even then. Maybe sensibilities were different and people were easier to scare at the time, but they're slow and they're parlor stories, for the most part."
Jon adds that "they're not terrifying" anymore in modern terms. "We've gotten really good at scaring people in movies," he says. "So, the nice thing about ['The Mummy' remake] is that it has the swash-buckling action-adventure character of a modern epic action movie, but it's legit terrifying. It will scare you."
"The Mummy" remake is directed by Alex Kurtzman and currently in post-production. The movie, which will officially kick off the new Universal Monsters Universe, is set for a June 9, 2017 release in U.S. theaters. As for the new "Van Helsing" movie, it has yet to set a release date, but the studio has two Untitled Universal Monster Franchise movies set to arrive on April 13, 2018 and February 15, 2019.