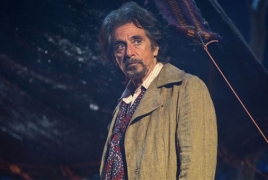 November 3, 2016 - 17:37 AMT
PanARMENIAN.Net - Al Pacino, Karl Urban, and Brittany Snow are starring in the upcoming crime thriller "Hangman", with shooting set to start Nov. 17 in Atlanta, Variety said.
Patriot Pictures and Union Patriot Capital Management's CEO Michael Mendelsohn and Arnold Rifkin of Cheyenne Enterprises are producing. The film will be financed by Union Patriot Capital Management.
Patriot is collaborating on a series of films with Etchie Stroh ("The Promise," "Afterglow"), who is the film's executive producer and will represent the film for international sales in a new venture at the American Film Market.
"Hangman" will be directed by Johnny Martin, who helmed "Vengeance: A Love Story" starring Nicolas Cage and Don Johnson. Michael Caissie and Charles Huttinger co-wrote the screenplay, with revisions by director Johnny Martin and Mendelsohn's Patriot Pictures.
Pacino will portray a decorated homicide detective and Urban will play a criminal profiler who collaborate to catch a serial killer who's terrorizing a city with a macabre version of the children's game Hangman. Snow will play a crime journalist shadowing the detectives.
"It's every director's dream to work with Al Pacino," Martin said. "Brittany Snow brings a fresh, instinctual presence to the production, while Karl Urban's strength, instinct, and versatility heighten the action and this genre. This film is amazing and will appeal to a wide audience."
Rifkin's credits include "Live Free or Die Hard," "16 Blocks" and "Hostage." Mendelsohn produced "Vengeance: A Love Story" and "USS Indianaplois: Men of Courage."