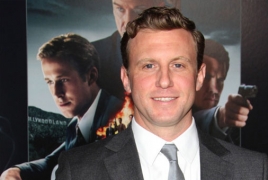 November 5, 2016 - 17:27 AMT
PanARMENIAN.Net - MadRiver Pictures has acquired the rights to Manuel Gonzales' comedy novel "The Regional Office Is Under Attack", and is developing it as a feature film with Ruben Fleischer ("Zombieland") to direct, Variety said.
Jennifer Ames and Steve Turner will adapt. The novel centers on a secret organization of young female operatives who are tasked with protecting an oblivious Earth from a constant barrage of alien threats.
Fleischer and David Bernad of The District will produce with MadRiver's Marc Butan. Edward Fee and Riverstone Pictures' Deepak Nayar and Nik Bower are executive producing.
The project was announced Friday at the American Film Market.
"It's rare that you read a book so original and so funny that so clearly translates to a big, fun, commercial film," Fleischer said. "We feel very lucky Manuel has entrusted us with his first novel, and are excited to work with Ames and Turner and MadRiver to bring it to life."
MadRiver recently completed James Gray's "Lost City of Z," set to release next year with Amazon Studios, and is in post-production on Peter Landesman's "Felt," starring Liam Neeson and Diane Lane. MadRiver Pictures partnered in Cannes this year with Insiders to form a joint venture, IMR Intl., to handle international sales across all MadRiver and Insiders films.
"We are thrilled to be in business with Ruben and his team on 'The Regional Office,'" said Butan. "His ability to blend character, action, and comedy is as good as it gets and he is a perfect fit for this project."
The District executive produces NBC's "Superstore," which just received a full-season season two order. They also have Brie Larson's directorial debut, "Unicorn Store," in production, and Fleischer is currently working on helming the sequel to "Zombieland."
Gonzales is the author of "The Miniature Wife and Other Stories." Ames and Turner's credits include "Boardwalk Empire," "Banshee and Bosch," and co-producing on "Ash vs. the Evil Dead." They are currently producers on Audience Network's "Kingdom."