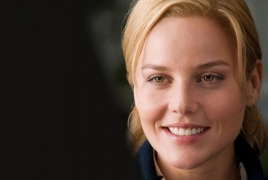 November 7, 2016 - 12:33 AMT
PanARMENIAN.Net - Abbie Cornish, Dylan Gelula and Garrett Wareing are starring in Eddie Alcazar's psychological thriller "Puberty" for Flying Lotus' Brainfeeder Films, Variety reports.
Alcazar is producing and directing "Puberty" from a script by Ted Kupper, based on a story by Alcazar and Kupper. Flying Lotus is executive producing and composing the score for the film. It's the second feature for Brainfeeder Films, which was announced in September at the Toronto Intl. Film Festival.
Production is set for this winter in Los Angeles with CAA handling domestic rights. Brainfeeder unveiled the project Friday at the American Film Market, where it launched international sales.
Wareing is portraying a teenage boy with a violent past who is haunted by dark visions and enters a mysterious clinic where the patients wildly transform their bodies and minds using genetic engineering. He undergoes treatment, installing therapeutic implants into his body — but discovers that purity of mind is not exactly what he'd imagined.
Cornish's credits include "Bright Star," "Sucker Punch," "Robocop" and "Lavender."
Gelula can be seen in Netflix's "Unbreakable Kimmy Schmidt" and "The First Girl I Loved." She also plays Aubrey in Hulu's "Casual" and recently wrapped on the independent film "Flower" opposite Zoey Deutch, Adam Scott, Kathryn Hahn, and Tim Heidecker.
Wareing has most recently been seen in "Independence Day: Resurgence." He also starred opposite Dustin Hoffman and Kathy Bates in "Hear My Song."
Brainfeeder's first feature film, "Kuso," is currently in production in Los Angeles and stars George Clinton alongside comedians Byron Bowers and Anders Holm.
Flying Lotus and Alcazar recently partnered to form Brainfeeder Films to focus on producing traditional and nontraditional entertainment for global audiences. The company is also shepherding projects for filmmakers David Firth and Dominic Hailstone.
Flying Lotus, who is also known by his birth name Steven Ellison, made his directorial debut with short "Royal," which debuted at the Sundance Next Fest in Los Angeles this past August.