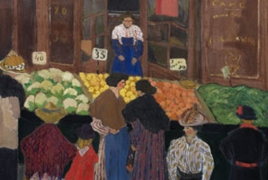 November 9, 2016 - 16:07 AMT
PanARMENIAN.Net - This November, the return of Swiss Art / Swiss Made at Sotheby's will feature Félix Vallotton's stunning painting "Au Marché", leading a group of exceptional works from the highly sought-after Nabi movement. Alongside this masterwork, the sale will include Vallotton's exquisite interior scene, "La cuisinière" and a beautifully evocative portrait by Cuno Amiet, "Schlafende Bretonin", Art Daily reports. Sotheby's Swiss Art team also celebrate 100 years of Dada and Switzerland's take on surrealism with a selection of works – led by Le Corbusier - exploring the development of these key movements in Switzerland's art history. The contemporary era is highlighted thanks to fascinating Constructivist works by Swiss artists including Max Bill, Fritz Glarner and Camille Graeser. Once again with Swiss Art / Swiss Made, Sotheby's is delighted to bring together a broad variety of works illustrating the wonderful diversity of Switzerland's artistic influences and output.
Looking ahead to the sale, Stephanie Schleining, Co-Head of Sotheby's Swiss Art Department, commented: "The Nabi movement is a perfect example of the connections which link Switzerland's artistic landscape with the wider international scene. Vallotton and Amiet both played a key role in shaping modernism in Europe through their interaction with Paul Sérusier and Edouard Vuillard and the influence of Paul Gaugin. In terms of art history, the Swiss influence extends well beyond our borders and we are proud that the works in our varied sale reflects this."
Commenting on the sale, Urs Lanter, Co-Head of Sotheby's Swiss Art Department, said: "The November sale of Swiss Art / Swiss Made will include a wonderful selection of works from an important Swiss private collection. The works stand as a testament to this passionate art-lover's fascination for the art of his time, in particular celebrated Constructivist artists such as Max Bill and Camille Graeser – who were closely connected to the German avant-garde."
SWISS ARTISTS AT THE ORIGINS OF THE NABI MOVEMENT "Au Marché" is a fascinating example of Félix Vallotton's work during his Nabi period, the most sought-after for the artist and one which would prove crucial for the rest of his career. This stunning work depicts a scene at the heart of late 19th-century Paris, in the bustling market of a popular neighbourhood. Here, Vallotton brings the urban characters of this exterior scene to life, using strong outlines and bold unmediated colour alongisde textured surfaces - motifs characteristic of the Nabi movement. The technique used is reminiscent of Japanese woodcuts, an approach which was popular in France at this time and which Vallotton had used to great effect in his illustrations for the literary magazine La Revue blanche.
This superb work is an outstanding example of the motifs and philosophy of this artistic collective. It prefigures the avant-garde movements of the 20th century and is sure to be of great interest to collectors of European Post-Impressionist art (Lot 17, Est. CHF 1,5 – 2 million).
As well as moving away from conventional ideas such as a realistic approach to perspective. Nabi artists sought to express their inner selves and to embrace the decorative, symbolic and even spiritual function of painting.
From around the same period in Vallotton's career, "La cuisinière" is the perfect complement to "Au Marché", illustrating the artist's exploration of this decorative aspect of the Nabi philosophy. Here, Vallotton takes great care over the detail of the work, and his depiction of the interior is anchored in reality, influenced by classical Dutch and French old masters. Once again, the painter has chosen an everyday scene (in this case his beloved at the time, Hélène Chatenay) but in contrast to "Au Marché", offers the viewer an exquisite and intimate snapshot of this moment in time (Lot 26, Est. CHF 350,000 – 450,000).
The 1890s were also a crucial period in the oeuvre of Cuno Amiet, a Swiss-born painter who, after studying fine arts in Munich and Paris, also became dissatisfied with the conventional approach to painting which was prevalent at the time. Between May 1892 and June 1893, Amiet spent time in the Breton fishing town of PontAven which, following the residency of Paul Gauguin in 1886, had become very popular among young artists.
His seminal work, "Schlafende Bretonin" reveals his interpretation of the Nabi philisophy: bold brush strokes and outlines framing flat planes of colour illustrate the artist's analysis of Gauguin's practice, and hearken back to the Japanese woodcuts so present in Vallotton's work. Paintings such as "Schlafende Bretonin" epitomize this period for Amiet, which was to prove crucial for the rest of his career. It was avant-garde works like these which prompted Erich Heckel, of the renowned German Expressionist movement Die Brücke, to invite the Swiss painter to join their group (Lot 13, Est. CHF 300,000 – 500,000).
100 YEARS OF DADA The early years of the 20th century in Zurich saw the birth of what was arguably the first truly international art movement: Dada. Defying definition, the movement which positioned itself as "anti-art" and evolved into Surrealism's powerful, dream-like explorations of the subconscious mind will be celebrated in Sotheby's upcoming auction. This section of the sale will be led by a series of works by Le Corbusier, most notably "Nature morte au portrait de famille, 1940", which tangibly illustrates the artist's masterful use of colour and composition (Lot 62, Est. CHF 300,000 – 400,000).
A central figure of the abstract movement, Hans Arp will also feature in this section of the auction, thanks to a stunning bronze sculpture, "L'agressif" (Lot 66, Est. CHF 150,000 – 200,000). Comfortably sitting alongside this selection of works by Le Corbusier and Arp, a wonderful still-life by Gino Severini perfectly illustrates the interlocking connections which brought together artists from Switzerland and all over Europe in the first half of the 20th century. This work bears a dedication to Fernand Dumas, the Swiss architect who was a close friend of Severini's and who worked with many prominent modernist figures including Le Corbusier and Arp (Lot 64, Est. CHF 80,000 – 120,000).
CONSTRUCTIVISM: MASTERS OF ABSTRACTION The latter part of the November sale will offer works from an important Swiss private collection which stands as a testament to one passionate art-lover's fascination for constructivist artists such as the Bauhaus-influenced Max Bill, Fritz Glarner and Camille Graeser.
Max Bill's spare geometric paintings will be represented by three works of significance by the artist, led by "Gelbes Quadrat mit roten Verfärbungen, 1984" (Lot 93, Est. CHF 50,000 – 70,000). His passion for modern design can be seen in three geometrical metal sculptures (Lots 97-99, Est. CHF 20,000 – 25,000 each).
Geometry is of course at the very heart of constructivism and concrete art. It is central to the work of Fritz Glarner, who was highly influenced by Piet Mondrian and the painters of the De Stijl movement. Two works on paper in the sale give fascinating insight into the artist's work: "Tondo, 1966" and "Abstrakte Komposition, 1967" (Lot 67 and 68, Est. CHF 25,000 – 35,000 and CHF 20,000 – 30,000 respectively).
Geneva-born Camille Graeser will shine in the sale thanks to a stunning largescale work, "Relation mit schwarzem Quadrat" (Lot 91, Est. CHF 70,000 – 90,000). Fellow masters of abstraction, and also Geneva-born, Olivier Mosset and John Armleder have enjoyed success well beyond Switzerland's borders. Mosset will feature with two works from 1986, "Ohne Titel (2 schwarze Bänder auf grünlichem Hintergrund)" (Lot 86, Est. CHF 20,000 – 25,000) and "Ohne Titel (Grünes Farbfeld mit Kreis)" (Lot 87, Est. CHF 20,000 – 25,000) and Armleder with "Ohne Titel, 1987" (Lot 88, Est. CHF 20,000 – 30,000).
19th CENTURY PAINTING In keeping with the traditions of Sotheby's sales of Swiss Art, the artists of the 19th century will of course also have their share of the limelight. A master at capturing the serenity and calm of the country's landscapes, Robert Zünd will be represented by a view of Lucerne at dusk, "Luzern im Abendlicht von Tribschenhorn" (Lot 3, Est. CHF 80,000 – 120,000).
In turn, Switzerland's master portraitist, Albert Anker, will feature thanks to a beautifully evocative and tranquil interior, a highly accomplished work on paper entitled "Kücheninterior mit Grossmutter und Kind" (Lot 6, Est. CHF 80,000 – 120,000).