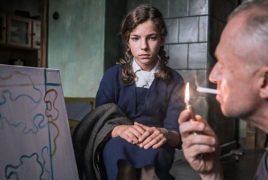 November 12, 2016 - 16:53 AMT
PanARMENIAN.Net - The passing of one of Poland's last great cinema auteurs has cast a shadow over the normally ebullient atmosphere in Bydgoszcz at this time of year — but the life and work of Andrzej Wajda is also celebrated as Camerimage, a film festival devoted to cinematographers, pays homage, Variety said.
His final feature, "Afterimage", screening as the fest's opening night gala, considers conflicts that were deeply personal to the Polish master.
Fest director Marek Zydowicz says "Afterimage," focused on the darkest days for art in recent Polish history, has special relevance to Wajda's life. Zydowicz calls the film "one of the best Andrzej Wajda films, a truly independent reflection — both in spirit and in form — on the nature of being an artist, and on the horrifying idea that the world of politics can make the art and culture dependent on it."
A one-time World War II resistance fighter — and later a dissident forced into exile by the communist regime — Wajda knew too well the conflicts of his swan song's subject, the painter Wladyslaw Strzeminski, a theoretician and mentor who founded the Museum of Modern Art in Lodz in 1930. Strzeminski ran afoul of the authorities after struggles — both internal and external — to be true to his art, refusing to conform to party diktats for pictures that "enthuse the masses."
Wajda, who initially studied to be a painter, also found himself dealing with authorities seeking more politically expedient work later in his career, which finally forced him into exile in Paris for years until his homecoming after the collapse of the Soviet-backed regime in 1989.
Although he served as a senator and was awarded an honorary Oscar in 2000 for contribution to world cinema, critics point to his early work, created under far less limelight while he was working as a theater director, as his most seminal.
Films such as "Ashes Diamonds," "Kanal" and "Generation," which formed his war trilogy, helped established a new vision in European cinema in the late '50s.
Some of Wajda's best-known work, focusing on the role of working people under authoritarian rule, includes films such as 1976's "Man of Marble" and 1981's "Man of Iron," featuring Solidarity movement leader Lech Walesa portraying himself. Follow-up "Walesa: Man of Hope," which premiered in Venice in 2013, laid out the story of Walesa's life, again considering the costs of speaking out in dangerous times.
Audiences flocked to see Wajda introduce "Afterimage" in Gdynia in September at Poland's largest domestic film fest where artistic director Michal Oleszczyk oversaw the sold out appearance.
"Andrzej Wajda's body of work is unparalleled," Oleszczyk says. "His films have provided a unique mirror to our country's violent, convoluted history and have themselves served as means of fighting for democracy."
As for Wajda's final film, Variety critic Dennis Harvey predicted "Afterimage" may struggle to reach screens in the West, like many of the director's other work. But he called the film "a bitter tale of injustice," noting its all-too-informed account of the risks run by artists in a state where dissent is criminalized.
Despite his titanic reputation at home, Wajda somehow never achieved the acclaim abroad of contemporaries such as Krzysztof Kieslowski and Roman Polanski. But he was feted at Cannes early in his career for his luminous sketches of life during wartime.
"His place in the world film canon is secure," says Oleszczyk, "and we now look to the young generation of Polish filmmakers both to honor his legacy and — hopefully — challenge us with visions as intense and heartfelt as those of Wajda himself."