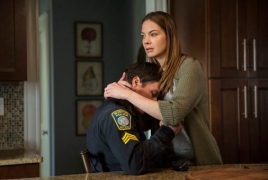 November 15, 2016 - 11:06 AMT
PanARMENIAN.Net - Lionsgate and CBS Films have released the first full trailer for "Patriots Day". It features Mark Wahlberg as police sergeant Tommy Saunders who is in a race against time to search the Boston marathon bombers, AceShowbiz said.
The trailer opens with Tommy going to work and watching the crowd at the 2013 race before a sudden explosion occurs near the finish line. One scene shows him saying, "We've got to find these guys before they do this to someone else," as he teams up with Kevin Bacon's Special Agent Richard DesLauriers to hunt down the "two bombers."
Directed by Peter Berg from a script he co-wrote with Matt Cook and Joshua Zetumer, the movie is based on the actual April 15, 2013 bombing. In the aftermath of the unspeakable attack, Police Sergeant Tommy Saunders (Wahlberg) joins courageous survivors, first responders and investigators in a race against the clock to hunt down the bombers before they strike again.
Weaving together the stories of Special Agent Richard DesLauriers (Bacon), Police Commissioner Ed Davis (John Goodman), Sergeant Jeffrey Pugliese (J.K. Simmons) and nurse Carol Saunders (Michelle Monaghan), this visceral and unflinching chronicle captures the suspense of one of the most sophisticated manhunts in law enforcement history and celebrates the strength of the people of Boston.
"Patriots Day" will arrive in Boston, New York City and Los Angeles this year on December 21, before opening wide in the United States on January 13, 2017.