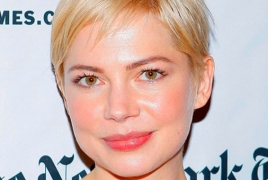 November 15, 2016 - 16:22 AMT
PanARMENIAN.Net - Michelle Williams officially stars as Janis Joplin in Sean Durkin's long-in-the-works biopic centering on the 1960s iconic rocker. While talking about her new award season favorite "Manchester by the Sea" with E! Online on Monday, November 14, the Oscar nominee herself confirmed that she would headline the upcoming biopic, AceShowbiz said.
"I figure there's one good day in the life of an actor, which is when you get the job," she responded when asked if the "Janis" biopic was happening. "Before you get the job, you're like, 'Come on! I'm begging. I'm dying for this. I gotta have it! Please, I'll do anything. I promise... Take me! Take me!' "
"You get the job and you're like, 'I got it! I'm so excited! I can't believe I have this opportunity. I can't believe I'm going to get to do this,' " she added. "And then you start worrying the next day. I'm in the worrying-the-next-day phase."
Sean is on board to direct the movie that will be adapted from "Love, Janis", a book written by the late singer's sister, Laura Joplin. Based on Janis' letters she wrote to friends and family, it tells the rock icon's rise to fame as well as her struggle with alcohol and drug addictions in the last six months of her life. Janis died in 1970 at the age of 27 from a heroin overdose.
Clara Brennan and Andrew Renzi are attached to pen the screenplay for the movie which is set to arrive in 2018. The project will be produced by Peter Newman through his production company in partnership with Spheeris Films and Start Motion Pictures.
Before portraying the iconic rock star, Michelle will appear in "Manchester by the Sea" opposite Casey Affleck. It is coming in U.S. theaters on November 18. She is currently in rehearsals for P.T. Barnum biopic "The Greatest Showman on Earth" which also stars Hugh Jackman and is expected to begin production soon.