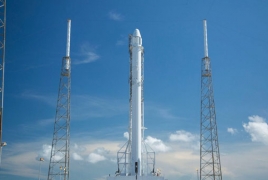 November 17, 2016 - 11:06 AMT
PanARMENIAN.Net - SpaceX, the aerospace company founded by the Mars-hungry tech entrepreneur Elon Musk, just made a big move to enshroud the planet in high-speed internet coverage, Business Insider said.
On Tuesday, November 15, the company filed a lengthy application with the Federal Communications Commission (FCC) to launch 4,425 satellites.
That is a hell of a lot of satellites.
According to a database compiled by the Union of Concerned Scientists, there are 1,419 active satellites currently orbiting Earth. There are estimates of roughly 2,600 satellites that no longer work floating in space, but even factoring those in, SpaceX's planned fleet would be larger than everything already in space.
Some of the biggest telecommunications satellites can weigh several tons, be the size of a bus, and orbit from a fixed point about 35,000 km above Earth.
After we took a look at SpaceX's FCC application, though, it seems these won't be your typical telecommunications satellites.
Each satellite in SpaceX's planned constellation will weigh about 386 kg and be roughly the size of a MINI Cooper car. They will orbit at altitudes ranging from ,150 km to 1,275 km.
From this lofty vantage point, SpaceX says each satellite could cover an ellipse about 2,120 km wide. That's about the distance from Maine to the Florida panhandle.
"The system is designed to provide a wide range of broadband and communications services for residential, commercial, institutional, governmental and professional users worldwide," SpaceX wrote in its application.