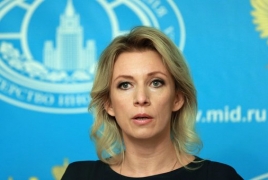 November 25, 2016 - 13:15 AMT
PanARMENIAN.Net - Moscow welcomes a possible intensification of the mediative work of the U.S. Co-chair of theOSCE Minsk Group in resolving the Nagorno Karabakh conflict, Maria Zakharova, spokeswoman for Russia's Foreign Ministry, said Thursday, November 24, Azeri media report.
"I wouldn't like to give a concrete assessment of individual efforts, but there is nothing wrong with intensified efforts, no matter by whom," said Zakharova.
Citing the complexity of the issue and its impact on those living in the conflict zone, the spokeswoman said "we wish to see more intensified efforts by the OSCE Minsk Group and its Co-chairs."
"Of course, serious efforts are needed for the process to go forward, and this is something we can only welcome," she added.
Armenian President Serzh Sargsyan and Azeri leader Ilham Aliyev met on June 20 in Saint Petersburg to address the conflict, with Russian President Vladimir Putin mediating the talks. The Armenian and Azerbaijani presidents confirmed their commitment to the implementation of agreements reached at a Vienna-hosted meeting on May 16. To that end, they agreed to increase the number of international observers in the Nagorno Karabakh conflict zone. Also, they expressed satisfaction that the ceasefire was now holding. Prior to that, a meeting between both leaders was organized on May 16 in Vienna, with top diplomats from the MG co-chairing countries hosting the summit.
Armenia's Deputy Foreign Minister Shavarsh Kocharyan said Wednesday there is no clarity concerning a possible meeting of Armenian and Azerbaijani foreign policy chiefs in Hamburg.