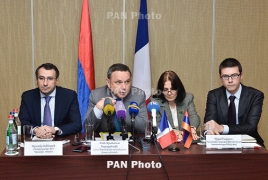 November 29, 2016 - 17:32 AMT
PanARMENIAN.Net - Proparco (subsidiary of Agence Française de Développement focused on private sector development) and Ameriabank signed a $20 million credit facility agreement on Tuesday, November 29.
The financing will be directed to energy efficiency, renewable energy, agribusiness, food processing, education and healthcare projects in Armenia. This is crucial for supporting business, speeding up economic growth, increasing employment. The long-term financing with flexible terms will support the growth and expansion of business activities in the country and increase competitiveness of Armenian companies both on local and export markets.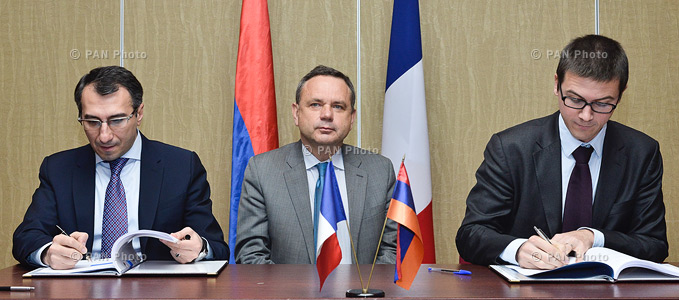 This is a repeat transaction that Ameriabank and Proparco have signed since year 2013 when Proparco signed its first credit facility agreement in Armenia and disbursed $15 million to Ameriabank for SME, energy efficiency and renewable energy project financing. Three years later Proparco expanded the range of economic sectors to be financed by the new credit facility agreement signed with Ameriabank.
According to French ambassador to Armenia Jean-Francois Charpentier, the subsidiary of Agence Française de Développement is boosting its activity in Armenia.
"Since its launch in 1977, the company has been supporting enterprises and financial institutions, as well as helping develop small and medium-sized businesses. Four Armenian firms benefited from the $15 million loan provided to Ameriabank back in 2013," Charpentier said.
"This time, the $20 million will go to companies engaged in energy efficiency, agribisuness,development of renewable energy resources and products. The agreement is completely in line with the policy adopted by the French Development Agency - the constant growth of green economy, provision of stability. Also, it is consistent with the policy of Armenian authorities, i.e. energy efficiency, development of renewable energy sources."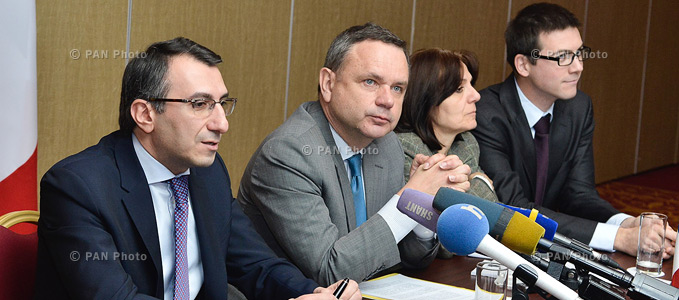 "We are happy to have been cooperating with Armenia's leading financial institution Ameriabank since 2013. This new agreement will enable the bank to expand its portfolio of projects and boost the bank's growth in terms of financing agriculture, housing, health and education," Proparco Head of the Financial Institutions Guillaume Barberousse
He said he has followed the projects implemented by Ameriabank throughout the last 3-4 years and noted the bank's growth and leadership.
According to CEO Artak Hanesyan, the bank has already attracted loans worth some $300 million from international lending organizations over several years in order to finance SMEs, as well as projects in agriculture, processing and energy.
Hanesyan said the deal is of particular importance for the development of Armenia's economy as it seeks to attract financial means with long-term and low interest rates.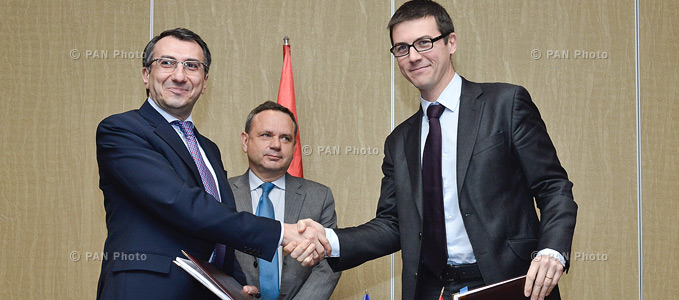 Proparco is a subsidiary of Agence Française de Développement (AFD) focused on private sector development. It has been promoting sustainable economic, social and environmental development practices for almost 40 years.
Proparco provides funding and support to both businesses and financial institutions across Africa, Asia, Latin America and the Middle-East.
It seeks to partner projects in key development sectors – infrastructure (with a specific focus on renewable energies), agribusiness, financial institutions, healthcare and education, etc. – and to boost the contribution of the private sector to achieving the sustainable development goals adopted by the international community in 2015. As a means to this end, Proparco finances businesses that are instrumental in creating decent jobs that pay decent wages, in supplying essential goods and services and in battling climate change. For further information, please visit www.proparco.fr
Ameriabank is a dynamically developing bank and one of the major and most stable financial institutions in Armenia. The first investment bank in Armenia, Ameriabank has been providing a large package of innovative banking services since 2007. Now Ameriabank CJSC is a universal bank offering corporate, investment and retail banking services in a comprehensive package of banking solutions. It is also the largest taxpayer among Armenian banks. Ameriabank is the first bank in Armenia that has exceeded the threshold $1 billion in assets since the formation of modern banking system of independent Armenia in 1992.