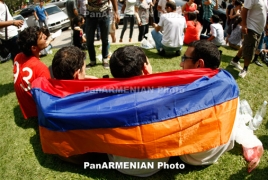 December 2, 2016 - 13:04 AMT
PanARMENIAN.Net - Armenia's population grew slightly to 3.0 million in 2016, the UN said Thursday, December 1 in its new report State of the World Population.
The report focuses on the well-being of 10-year-old girls as indicators of development success or failure. It says 89% of the world's 125 million 10-year-olds live in developing countries where girls face obstacles to equal education, healthcare and safety.
Armenia's population grew by 0.3% between 2010 and 2016, while life expectancy at birth stands at 79 among women and 71 among men. The overall female population aged 10 totals 17.000 in the country, the UN said.
In 2010-2016, Azerbaijan's populations has grown by 1.4% to 9.9 million, Georgia's has decreased by 1.1% to 4.0 million, Iran's population stands at 80.0 million - up by 1.3% - while Turkey has by 1.6% more citizens - 79.6 million overall.
The report said the world's population grew 1.1 percent to 7.433 billion from 7.349 billion the previous year.
Also, it estimated that developing countries could generate or lose at least $21 billion depending on their investments in the health and education of their 10-year-old girls today.
"In 2030, today's 10-year-old girl will be 25. In 15 years, as an empowered young woman, she could change the world. But she should not have to. It is up to the world to change for her," it says.
Every day, an estimated 47,700 girls are at risk of being married before age 18. Girls around the world are also vulnerable to sexual, physical and psychological violence in and around schools, and in public spaces.
As of October 1, the estimated resident population of Armenia amounted to 2.993.900 people, down by 4700 against the figures registered on January 1, the National statistical service said earlier. 1.904.600 people currently dwell in cities, while the remaining 1.089.300 are based in rural communities. Armenia's capital, Yerevan, accounts for 1.074.600 residents of the country's urban population.