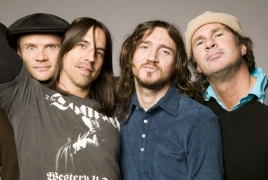 December 6, 2016 - 12:23 AMT
PanARMENIAN.Net - Red Hot Chili Peppers just released an animated video for their latest single, "Sick Love", on Monday, December 5. Directed and illustrated by Newcastle-born singer/songwriter Beth Jeans Houghton, the video features bizarre interpretations of the song's lyrics, AceShowbiz said.
The video follows a young Australian girl who bids her family goodbye and moves to Los Angeles. However, once she lands, the video turns into a weird juxtaposition between image and reality. Instead of fame or glamour, she finds the streets are lined with vomits, used condoms and cigarette butts. In other scenes, news anchors start vomiting green bile instead of reading news, people at parties turn into monstrous villains and creepy clown is hovering in a cemetery.
Each of RHCP members also appears in the clip in animated form. The band's frontman Anthony Kiedis is seen having sex with a woman who later turns into a black widow spider and rips off his head, while "giant" drummer Chad Smith is seen playing a small set of drum.
"Sick Love" is taken from the band's eleventh album "The Getaway". RHCP is currently promoting the album with "The Getaway World Tour". The band kicked off the tour on February 5 in Los Angeles and will start the North American leg on January 5, 2017. They will perform at London's O2 Arena on Tuesday, December 6 as part of the European leg. The tour will finish in Rio de Janeiro, Brazil on September 24, 2017.