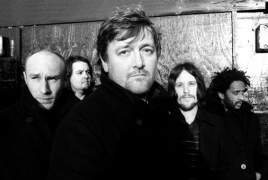 December 7, 2016 - 11:05 AMT
PanARMENIAN.Net - Elbow have announced the title of their new album 'Little Fictions', as well as unveiling new single 'Magnificent (She Says)', NME said.
Earlier this year, the Mercury-winners announced their seventh studio record and a lengthy UK tour, with the follow-up to 2014's 'The Take Off And Landing Of Everything' dropping on 3 February.
Now, the record has the title 'Little Fictions', with some colourful artwork.
Not only that, but the band have dropped the record's lead single with 'Magnificent (She Says)' – a fittingly triumphant and sentimental dose of Elbow, lifted by the lush richness of their more classic work but taken to a more expansive and open arena, NME said.
Describing the sound and spirit of the new record, frontman Guy Garvey said: "It's really quite chunky and beat-heavy. There's a sparseness to the songs which perhaps we're not known for. The themes are ranging as always, great big themes and concerns for the world at the same time as falling in love, looking forwards and backwards and all of the things."
This will be their first release as a four-piece, following the departure of drummer Richard Jupp earlier this year.