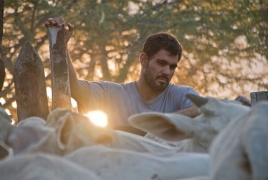 December 8, 2016 - 16:59 AMT
PanARMENIAN.Net - "All These Sleepless Nights," "The Fits," "Kate Plays Christine," "Mountains May Depart" and "Neon Bull" have been nominated for the Cinema Eye Honors Heterodox Award, Variety reports.
The award honors films that actively blur the line between narrative fiction and documentary. For the first time in Cinema Eye history, two films that are nominated for Cinema Eye's nonfiction film craft honors are also nominated for the Heterodox Award — Michal Marczak's "All These Sleepless Nights" for cinematography and score and Robert Greene's "Kate Plays Christine" for direction.
Anna Rose Holmer's "The Fits," centering on an 11-year-old tomboy in a dance troupe, and Gabriel Mascaro's "Neon Bull" premiered last year at the Venice Film Festival and Jia Zhangke's "Mountains May Depart" debuted at the 2015 Cannes Film Festival. "Neon Bull," a look at the world of Brazilian rodeo, won the Horizons (Orizzonti) – Special Jury Prize at Venice.
"Cinema Eye was established 10 years ago to recognize documentary as an inherently artistic medium" said Cinema Eye Founding Director AJ Schnack. "The Heterodox Award is our way of recognizing films from around the world that celebrate that blurry line. We're also excited to see 'All These Sleepless Nights' and 'Kate Plays Christine' nominated for Heterodox and for our nonfiction awards. This speaks directly to this creative moment in filmmaking and the ways filmmakers are confidently playing with the form to create increasingly bold and innovative works."
Previous winners of the award are Matt Porterfield's "Putty Hill" (2011), Mike Mills' "Beginners" (2012), Jem Cohen's "Museum Hours "(2013), Carlos Reygados's "Post Tenebras Lux" (2014), Richard Linklater's "Boyhood" (2015) and Jafar Panahi's "Taxi" (2016).