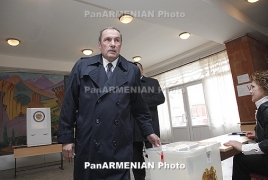 December 9, 2016 - 18:00 AMT
PanARMENIAN.Net - The Armenian National Congress (ANC) will participate in the forthcoming parliamentary elections in 2017 with a party list headed by the country's First President Levon Ter-Petrosyan, head of ANC fraction at National Assembly Levon Zurabyan told reporters at a briefing on Friday, December 9.
According to Panorama.am, the MP didn't rule out the possibility of forming alliances with other opposition forces; however, he insisted that no political force could suggest better candidate to head the list.
He next informed that ANC convention is due on December 17 with Levon Ter-Petrosyan expected to deliver a speech.
As Prosperous Armenia MP Mikael Melkymyan stated at the briefing, the return of the party's ex-leader Gagik Tsarukyan is a necessity for Armenia's political life. According to Melkumyan, time that elapsed after Tsarukyan's departure proved him irreplaceable. Tsarukyan will soon announce the format of his participation in the 2017 elections, the MP said.
"Chairman of the Republican Party of Armenia (RPA) Serzh Sargsyan will lead the party's proportional list in the parliamentary elections," RPA faction leader Vahram Baghdasaryan said.
"There are no grounds for the RPA leader not to lead its election list," Baghdasaryan noted.