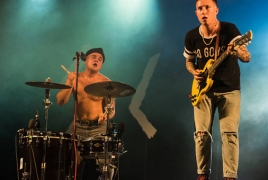 December 16, 2016 - 17:27 AMT
PanARMENIAN.Net - Slaves have unveiled a video for their track 'Hypnotised', NME said.
The band released their second album 'Take Control' in September. It followed on from last year's debut 'Are You Satisfied?', which peaked at Number Eight in the charts and earned the duo a Mercury Prize nomination.
The new album features collaborations with former Beastie Boys rapper Mike D and Baxter Dury. It was recorded at Jackson Browne's studio in Santa Monica, California, with Mike D producing. Speaking to NME recently, the band described the album as "heavy, dirty and fun".
The video for 'Hypnotised', lifted from 'Take Control', sees the duo performing in a tiny room with psychedelic glasses on.
Slaves recently admitted that their first meeting with former Beastie Boy Mike D was a little frosty.
"We're sitting waiting in this restaurant, Mike is late and we've been there half an hour. He's a busy man and when he arrives his phone is constantly going, loads of texts. So in my typical blunt fashion I was just like, 'Shall we all put our phones down, then?' From that moment on he fucking loved it," said guitarist Laurie Vincent. "I feel sometimes with our brothers from across the pond you have to sort of warm them up a bit before they engage."
The duo eventually got so close to the producer that they even dissed him on the track 'The People That You Meet'. The verse in the track, contains the following lyrics: "I know a man called Michael / He hails from NYC / Now he lives in Malibu / In a mansion by the sea / Production is his game now / He called my friend Laurie / He used to be a Beastie Boy / But now he works for me."
"I went up to him when we were recording it and I was like, 'What do you think about this then, eh, Mike?'" says Vincent. "He went, 'If you're gonna slam me, at least do it fucking good – this is a shit fucking vocal take.'"
Vincent and Mike D now speak on the phone every day, and are already discussing future collaborations. "He's become almost like a third band member," added Vincent. "At the moment, we don't want to record without him. It feels like he gets the best out of us."