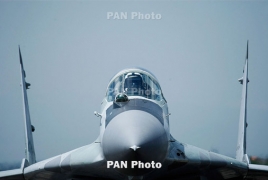 December 23, 2016 - 09:58 AMT
PanARMENIAN.Net - Russia has agreed a major arms donation package with Serbia, following state meetings in Moscow on Wednesday, December 21, Jane's Defense Journal says.
The main part of the donation is for six surplus MiG-29 'Fulcrum' fighter aircraft, a long-standing requirement for the Serbian Air Force. Also included in the deal was a donation of 30 T-72 tanks and 30 BRDM-2 armoured reconnaissance vehicles.
Serbian Prime Minister Aleksandar Vucic and Russian Defence Minister Sergei Shoigu agreed on the donation on Wednesday, with the formal agreement document expected to be signed on December 23. Extensive discussions were also made over the donation or sale of air defence systems, with Serbia hoping to receive Buk-M2 and 2K22 Tunguska systems, however no sale was finalised. Instead the two parties agreed to continue talks with the expectation that an eventual arrangement will be made in 2017 or 2018, when Serbia is hoping to get a better procurement offer from Russia.
The MiG-29s are currently being decommissioned from the Russian Aerospace Forces and should be delivered to Serbia during 2017.
Russia's aircraft donation for Serbia includes one MiG-29A (9.12A) and three MiG-29S (9.13) single-seat fighters, plus a pair of twin-seat MiG-29UB (9.51) trainers. These aircraft are expected to need significant work on them to allow them to serve operationally with the Serbian Air Force until about 2030.
These aircraft are intended to strengthen Serbia's weakening air policing capabilities.
Currently Serbia can field three MiG-21UM twin-seat fighters modified to carry R-60 air-to-air missiles; a pair of more-modern MiG-29B (9.12B) single-seat fighters; and a sole MiG-29UB twin-seat trainer. All of these are stationed at Batajnica Air Base, near Belgrade. Serbia also has one more MiG-29B that has been grounded at Batajnica for many years.