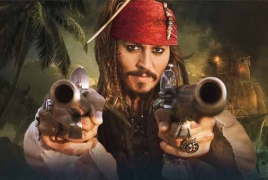 January 6, 2017 - 14:57 AMT
PanARMENIAN.Net - Walt Disney Pictures teases fans about "Pirates of the Caribbean: Dead Men Tell No Tales" by releasing a synopsis. According to the synopsis, the story will be about how Johnny Depp's iconic character Captain Jack Sparrow starts to realize the ill fortune after ghost sailors escape from the devil's triangle and try to kill all the pirates, especially Sparrow. The synopsis also reveals the name of Sparrow's new ship, The Dying Gull. Described as pitiful small and shabby, this ship garners a lot of attention since people know Sparrow's love for nice ships, but he ends up with a ship which doesn't sound as intimidating as The Black Pearl, AceShowbiz said.
The official synopsis reads, "Johnny Depp returns to the big screen as the iconic, swashbuckling anti-hero Jack Sparrow in the all-new 'Pirates of the Caribbean: Dead Men Tell No Tales'. The rip-roaring adventure finds down-on-his-luck Captain Jack feeling the winds of ill-fortune blowing strongly his way when deadly ghost sailors, led by the terrifying Captain Salazer (Javier Bardem), escape from the Devil Triangle bent on killing every pirate at sea, notably Jack. Jack's only hope of survival lies in the legendary Trident of Poseidon, but to find it he must forge an uneasy alliance with Carina Smyth (Kaya Scodelario), a brilliant and beautiful astronomer, and Henry (Benton Thwaites), a headstrong young sailor in the Royal Navy. At the helm of the Dying Gull, his pitiful small and shabby ship, Captain Jack seeks not only to reverse his recent spate of ill fortune, but to save his very life from the most formidable and malicious foe he has never faced."
Even though Jack Sparrow will have new partners in "Dead Men Tell No Tales", some original stars of the "Pirates of the Caribbean" franchise have been reported to join the lineup. Besides Orlando Bloom, it's recently reported that Keira Knightley might return as Elizabeth Swann. TooFab claimed that Knightly had filmed for the movie secretly and even though she only has a "small cameo during the end credits," an insider says that it's going to set up a bigger part on "Pirates of the Caribbean 6".
Directed by Espen Sandberg and Joachim Ronning, "Pirates of the Caribbean: Dead Men Tell No Tales" will hit the theaters across the nation on May 26.