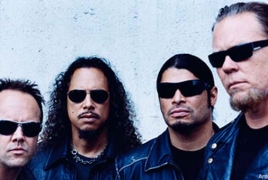 January 9, 2017 - 15:02 AMT
PanARMENIAN.Net - Metallica had a phenomenal 2016. They released their incredible new album Hardwired... To Self Destruct - their 10th studio album since Kill 'Em All way back in 1983. Hetfield, Hammet and co also returned with live shows after a lengthy break and were on top of their game proving why they're the greatest metal band on earth, Gigwise said.
To top off their new album success, sales of their entire back catalogue continued to sell with five of the top ten selling rock/metal albums of 2016 being Metallica's.
After the new album which has already gone gold despite beign released late in 2016, the Black Album is the next best-selling, followed by Master of Puppets,...And Justice For All, and Ride The Lightning. The thrashy Cliff Burton era album Kill 'Em All comes in at number 22. St. Anger is nowhere to be seen, Gigwise said.
Other artists to do well include Disturbed, Bon Jovi, Journey, and Guns N' Roses. But no one cleaned up quite as well as the mighty Metallica.
See the full chart thanks to Metal Insider below.
1. Metallica, Hardwired… To Self Destruct (516,000 sold) 2. Disturbed, Immortalized (298,000 sold) 3. Metallica, Metallica (267,500 sold) 4. Bon Jovi, The House is Not For Sale (174,000 sold) 5. Journey, Greatest Hits (169,000 sold) 6. Metallica, Master of Puppets (163,000 sold) 7. Metallica, …And Justice For All (155,000 sold) 8. Metallica, Ride the Lightning (153,000 sold) 9. Megadeth, Dystopia (
148,000 sold) 10. Five Finger Death Punch, Got Your Six (146,500 sold) 11. Avenged Sevenfold, The Stage (144,000 sold) 12. Guns N' Roses, Greatest Hits (138,000 sold) 13. Deftones, Gore (
133,000 sold) 14. Skillet, Unleashed (123,500 sold) 15. Volbeat, Seal the Deal & Lets Boogie (123,000 sold) 16. AC/DC, Back in Black (117,000 sold) 17. Guns N' Roses, Appetite For Destruction (
115,000 sold) 18. Nirvana, Nevermind (
114,000 sold) 19. Trans-Siberian Orchestra, The Ghosts of Christmas Eve (
113,000 sold) 20. Shinedown, Threat to Survival (110,000 sold) 21. Pierce the Veil, Misadventures (105,000 sold) 22. Metallica, Kill 'em All (
104,000 sold) 23. A Day to Remember, Bad Vibrations (
102,000 sold) 24. Korn, The Serenity of Suffering (
100,000 sold)
Meanwhile, Metallica are on a world tour.
11 Jan Seoul Gocheok Sky Dome, South Korea 15 Jan Shanghai Mercedes Benz Arena, China 18 Jan Beijing Le Sports Center, China 20 Jan Check Lap Kok Asia Word Expo, Hong Kong 22 Jan Singapore Indoor Stadium 03 Feb Copenhagen Royal Arena, Denmark 05 Feb Copenhagen Royal Arena, Denmark 07 Feb Copenhagen Royal Arena, Denmark 09 Feb Copenhagen Royal Arena, Denmark 01 Mar Mexico City Foro Sol, Mexico 03 Mar Mexico City Foro Sol, Mexico