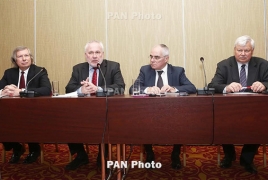 January 10, 2017 - 11:18 AMT
PanARMENIAN.Net - The Co-chairs of the OSCE Minsk Group - Ambassadors Igor Popov of Russia, Stephane Visconti of France, and Richard Hoagland of the United States - released a statement Monday, January 9 on an attempted subversive attack launched by Azerbaijan against Armenia on December 29, 2016.
"Baku and Yerevan continue to accuse each other of a December 29, 2016 attempted incursion on the Armenian-Azerbaijani border, which resulted in casualties. Armenian Armed Forces are still holding the body of an Azerbaijan serviceman killed in the fighting," the Co-chairs said.
"Violations of the ceasefire are unacceptable and are contrary to the acknowledged commitments of the parties, who bear full responsibility not to use force. The Co-chairs urge the leaders of Armenia and Azerbaijan to strictly observe the agreements reached during summits in Vienna and St. Petersburg in 2016, including obligations to finalize in the shortest possible time an OSCE investigative mechanism. The Co-chairs also urge the return, without delay, of human remains, in accord with the agreements of the Astrakhan Summit of 2010, bearing in mind the exclusively humanitarian nature of this issue. We call upon the Parties to cease mutual accusations and undertake all necessary measures to stabilize the situation on the ground."
Azerbaijani troops attempted a subversive attack near the village of Chinari in Armenia's Tavush province in the early hours of December 29. Three Armenian servicemen were killed in the attack. The Armenian Defense Ministry said it possesses undeniable evidence of violation of the state border by Azerbaijan, adding that up to seven Azeri troops were also killed. Armenia still holds the body of one of Azerbaijan's soldiers, with ICRC engaged in negotiations over its return.