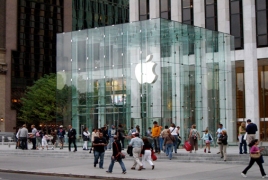 January 11, 2017 - 12:51 AMT
PanARMENIAN.Net - Apple on Tuesday, January 10 was granted a patent detailing technology that allows for ear speakers, cameras and even a heads-up display to hide behind an edge-to-edge screen, a design rumored to debut in a next-generation iPhone later this year, AppleInsider reports.
Awarded by the U.S. Patent and Trademark Office, Apple's U.S. Patent No. 9,543,364 for "Electronic devices having displays with openings" describes a method by which various components can be mounted behind perforations in a device screen that are so small as to be imperceptible to the human eye. This arrangement would allow engineers to design a smartphone or tablet with a true edge-to-edge, or "full face," display.
Until recently, smartphone aesthetics have been both defined and limited by their most dominant feature: the display. Conventional candybar designs made popular by iPhone put the screen front and center, with supporting hardware arranged along its periphery.
For example, iPhone features a large central display flanked by sensors and physical controls located on the device's "forehead" and "chin," or the areas above and below the screen, and its sides. Certain components like the front-facing camera, ambient light sensor and proximity sensor can be hidden below a cover glass or co-located in an inactive portion of the display. Other elements like the ear speaker and home button require unhindered access to the user, especially in the case of Apple's Touch ID, meaning space for these parts is literally cut out of the front surface.
With smartphones becoming increasingly more compact, there has been a push to move essential components behind the active —or light-emitting —area of incorporated displays, AppleInsider says.