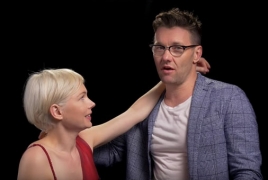 January 12, 2017 - 12:38 AMT
PanARMENIAN.Net - They will survive! With Donald Trump's inauguration quickly approaching, some of Hollywood's biggest actors have teamed up to cover Gloria Gaynor's power anthem "I Will Survive". The all-star cast has come together for the latest installment of W Magazine's Lyrical Improv video series, AceShowbiz said.
Directed by Lynn Hirschberg, the one-and-a-half-minute video features a mixture of singing and dramatic readings of Gaynor's 1979 smash hit. Andrew Garfield opens the video by warning that "this is going to be interesting" and "it may get too real," while "Black Mass" actor Joel Edgerton goes on doubting if he will "survive."
Then "Star Trek" actor Chris Pine starts to belt out the first line of the song, followed by Hailee Steinfeld, who sings the second line with "petrified" expression. Some of the actors participating in the video, like Natalie Portman and Felicity Jones, opt to simply read the lyrics, while the others channel their inner singer.
Oscar-nominated actresses Emma Stone and Amy Adams are seen dancing along to the song, while award-winning actress Michelle Williams acts out her lines with Edgerton. "Empire" star Taraji P. Henson wraps the star-studded clip with a big finish as she waves an indignant finger at the camera before dancing off into the background.
Donald Trump's inauguration is right around the corner, but his team has been struggling to book A-list performers for the event. Andrea Bocelli,‭ ‬David Foster‭ ‬and‭ ‬Celine Dion‭ ‬are among artists who declined to perform.‭ ‬Recently,‭ ‬two British‭ singers ‬Rebecca Ferguson‭ ‬and‭ ‬Charlotte Church, and veteran DJ Moby‭ ‬declined Trump's invitation. Trump will be sworn as the 45th President of the United States on Friday, January 20 on the West Front of the United States Capitol Building in Washington,‭ ‬D.C.