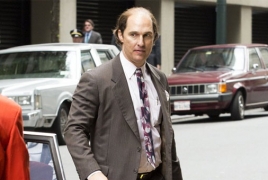 January 12, 2017 - 14:03 AMT
PanARMENIAN.Net - The Weinstein Company has just released "Gold (2016)" red band trailer, AceShowbiz said. Lead actor Matthew McConaughey is featured naked in it, showing off his bare butt while standing near a jacuzzi. The trailer also features expletives.
"Gold" follows the story of a man pursuing American dream to discover gold. McConaughey plays Kenny Wells, a prospector desperate for a lucky break. He teams up with a similarly eager geologist and sets off on an journey to find gold in the uncharted jungle of Indonesia. Getting the gold was hard, but keeping it would be even harder, sparking an adventure through the most powerful boardrooms of Wall Street. The film is inspired by a true story.
McConaughey successfully gained 217 pounds for his role in the movie. He also went bald, wearing faux teeth and consuming many cheeseburgers and beer to get into the character as Kenny Wells. "That's cheeseburger and beer for eight months whenever I wanted them," he told Ellen DeGeneres last December about his transformation for the movie. "My wife misses all 217 pounds of me and the kids too, cuz it was pizza night, any night, any night was pizza night," he added.
"Gold" is directed by Stephen Gaghan and written by Patrick Masset and John Zinman. McConaughey serves as the producer together with Teddy Schwarzman, Michael Nozik, Zinman and Masset. Starring alongside McConaughey in "Gold" are Edgar Ramirez, Bryce Dallas Howard, Toby Kebbell, Rachael Taylor, Bruce Greenwood, Corey Stoll, Craig T. Nelson, Stacey Keach and Timothy Simons.
"Gold" was initially planned to be released last December, but delayed in order to qualify for awards season. The movie will hit U.S. theaters on January 27.