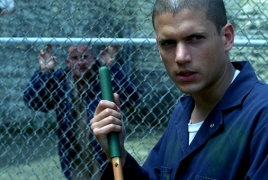 January 12, 2017 - 14:10 AMT
PanARMENIAN.Net - A new trailer for "Prison Break" has been released to tide fans over the show's long-awaited return. It sees Theodore "T-Bag" Bagwell (Robert Knepper) delivering the news to Lincoln Burrows (Dominic Purcell) that Michael Scofield (Wentworth Miller) is still alive.
Initially doubting the information, Lincoln then deciphers the code about Michael's location and begins his attempt to free his brother from a Yemeni prison. At one point, Michael seemingly manages to escape, but Lincoln is left behind.
But getting out of prison is not their biggest problem since they have to flee country before a war erupts there. The video also offers a glimpse of T-Bag who gets what looks like a new bionic hand.
At the TCA winter press tour on Wednesday, January 11, Sarah Wayne Callies, who plays Michael's wife Dr. Sara Tancredi, and Mark Feuerstein, who plays Sarah's new husband Jacob, teased what would happen when Michael and Sara are reunited. "At the end of the series, Michael is dead, which happens to all of us on 'Prison Break'," Callies said.
Feuerstein added, "In that time while he was presumed dead, he stalked her and fell in love with her and we got married. She had no idea he was anywhere and suddenly he's alive and somewhere tension ensues."
Series creator Paul T. Scheuring additionally hinted that Michael may be not the Michael we knew before when he's out of the prison. "Micheal doesn't come out of the gates comprised," he teased, "Is he Michael? Is this the Michael we knew all along?"
The new season of "Prison Break" is set to debut April 4 at 9 P.M. on FOX. The network has also announced midseason premiere dates for its other shows, including "Gotham" and "Empire".