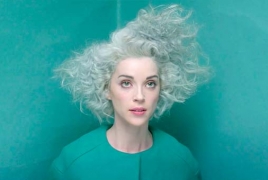 January 12, 2017 - 15:08 AMT
PanARMENIAN.Net - A trailer for forthcoming anthology horror film XX, which features a short directed by St. Vincent, has been shared online, NME reports.
The singer-songwriter directed one of the four parts of XX alongside three other directors, Karyn Kusama (The Invitation), Roxanne Benjamin (Southbound), and Jovanka Vuckovic (The Captured Bird).
Speaking about the project on horror podcast Killer POV, Kusama previously said: "The films are very different but there are overriding anxieties about female-ness to a degree. And I want to say body horror is a component."
The film will premiere at this year's Sundance Film Festival before seeing limited released in cinemas and arriving on video-on-demand services on February 17.
Meanwhile, St. Vincent has launched a new line of guitars featuring her own designs. One of the models has been dubbed the Thin White Duke, which Annie Clark said is a tribute to the late David Bowie.
Clark recently appeared on the cover of Guitar World wearing a t-shirt that poked fun of the magazine's "sexist history" of putting nude models with guitars on its covers.
"I did a quick Google search of women on the cover, and all I really saw was girls in bikinis holding guitars like they've never held a guitar before," she told the magazine for their January 2017 issue. "I started thinking about that and just wanted to make my own absurdist comment on it. I couldn't really let it slide without poking a bit of fun and taking the piss a little!"