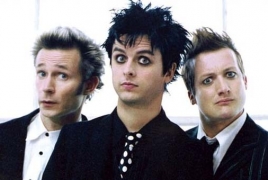 January 12, 2017 - 15:42 AMT
PanARMENIAN.Net - Last night (January 11) saw Green Day kick off their 2017 European tour in Italy. Last year the band's 'Revolution Radio' shows featured then playing favourites and rarities – some of which hadn't been played live in 15-20 years. Now bringing their new album to Europe, Billie Joe Armstrong and co opened the 2017 leg of the tour with mammoth 29-song set at Pala Alpitour in Turin, Italy, NME said.
The set leaned largely on tracks from 'Revolution Radio', 'American Idiot' and 'Dookie', but also saw them air 'Jaded' from 'Insomniac' for the first time since 2011, while also performing early cuts from 'Kerplunk' with 'Christie Road' and 'Welcome To Paradise'. Not only that, but the set also featured their medley of covering both 'Shout' by LuLu and '(I Can't Get No) Satisfaction' by The Rolling Stones – along with a snippet of 'Careless Whisper' by the late George Michael during 'King For A Day'.
"You know it's great, we're playing songs off 'Nimrod', 'Kerplunk', the new record, 'American Idiot', songs that are off 'Insomniac' that we haven't played in over 20 years," frontman Billie Joe Armstrong told NME about what to expect from tour. "We played these shows for the hardcore fans in the theatres and clubs and we just had a blast, and you could tell because the energy in the crowd was energising us.
"They expect us to be great, and we have to live up to that. We just put as much passion as we can into what we do. We write the record together, we make the record together, and it's our record at the point. When it's finished, on the day it gets released, it doesn't belong to us any more. It belongs to the fans."