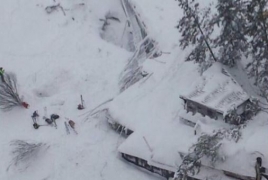 January 21, 2017 - 17:01 AMT
PanARMENIAN.Net - Emergency crews in Italy have rescued four more people from a hotel which was destroyed by an avalanche on Wednesday, January 18. In total, 11 people have been located alive but the whereabouts of many more remain unknown, Deutsche Welle reports.
The four additional survivors were pulled out of the remains of the Hotel Rigopiano in central Italy overnight to Saturday, firefighters said.
They added that four bodies had also been located. The body of one man was also recovered on Saturday morning raising the known death toll to five, Reuters news agency reported, quoting fire service spokesman Luca Cari.
The Urban Search and Rescue unit wrote on its official Twitter page that two women and two men were rescued, bringing the number of people pulled out of the rubble so far to nine.
"USAR firefighters extracted two deceased women," the rescue workers added. Two other bodies had been found at the hotel on Thursday, the Civil Protection Department said.
The survivors included four children who were inside the hotel when the avalanche struck Wednesday afternoon. Five people had been pulled out on Thursday and Friday.
Two people who were outside the hotel at the time of the disaster were also counted among the 11 in total rescued.
One of them was Giampiero Parete, a chef vacationing with his family, who had escaped the building just before the avalanche struck and first sounded the alarm by calling his boss, the Associated Press reports.
He was reunited with his wife and two children Saturday. The three were among the first to be found and extracted by rescue crews.
"Thank you everyone from my heart," Parete wrote on Facebook. "Big hugs."