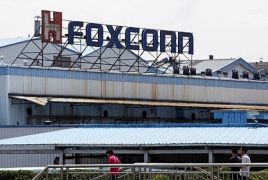 January 23, 2017 - 15:30 AMT
PanARMENIAN.Net - Electronics manufacturer Foxconn Technology Group is considering investing $7 billion to build a flat-panel screen factory in the U.S., but the company founder says incentives will be needed to make the deal happen, The Wall Street Journal reports.
Speaking at a Foxconn company event in Taiwan on Sunday, January 22, founder and chairman Terry Gou said the factory could create 30,000 to 50,000 jobs in the U.S., and discussions were already under way with state and local officials in Pennsylvania and other states.
The factory would involve Sharp Corp., the Japanese electronics maker and flat-panel supplier that Foxconn acquired last year, Gou said during a speech broadcast by Taiwan media.
The remarks were Gou's most detailed on the potential investment since it first came up when U.S. President Donald Trump met with SoftBank Group Corp. Chief Executive Masayoshi Son in the weeks before Trump took office.
Standing next to Trump, Son held up a sign that had Foxconn's logo next to Softbank's, and which said "Commit to invest $50 bln + $7 bln in U.S." Foxconn would only say afterward that it was evaluating the possibility of U.S. investment. Foxconn, formally known as Hon Hai Precision Industry Co., is the world's largest electronics contract manufacturer and a major supplier to Apple Inc.
In his comments Sunday, Gou indicated that a deal was far from assured, and that he thought his discussions with Mr. Son were private and informal.
"But then when he and Trump met with the media, he [ Son] exposed me," Gou said.
Any deal would hinge on getting land and power at bargain rates, Gou said.
"If U.S. state governments are willing to provide these terms, and we calculate and it is cheaper than shipping from China or Japan, then why wouldn't Sharp build a factory in the U.S.," he said.
Gou singled out Pennsylvania as a likely location for a Foxconn panel factory.
"Right now Pennsylvania is very proactive," he said. "I have to tell other states to hurry up or we'll go ahead and sign with Pennsylvania."
Foxconn's chairman made the remarks—broadcast on video by local media—at an annual company party. A person at the event confirmed the remarks.
A Foxconn spokeswoman declined to confirm Gou's statements, but said the company is considering potential manufacturing locations in the U.S.
Foxconn had contacted Pennsylvania's state representative in Taipei in mid-December to inquire about programs for companies interested in locating operations in the state, said a spokesman with the Pennsylvania Department of Community & Economic Development.
A Foxconn factory in Pennsylvania could help Trump fulfill campaign promises to create jobs. He became the first Republican candidate to win the state since 1988 by pledging, in part, to bring back jobs to fading steel towns and former manufacturing areas.
Gou has been considering a flat-panel factory in the U.S. for years. In 2014, he said he was evaluating the feasibility of such a factory, since it was costly to ship large-screen TVs from Asia. The project never made headway because U.S. local governments didn't offer terms that were favorable enough, a person familiar with the matter said.
The company announced a new $8.8 billion flat-panel factory in southern China's Guangzhou last month, with Gou praising the local investment environment.