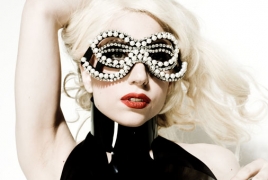 January 24, 2017 - 11:25 AMT
PanARMENIAN.Net - While Lady GaGa has been busy preparing her highly anticipated performance at the Super Bowl halftime show, the Mother Monster could be releasing a new album later in 2017, AceShowbiz said. Earlier this week, Forbes claimed that GaGa's new album would be released in early October this year.
"With Lady GaGa's new album slated for early October '17, over 100 million viewers won't hurt her sales," the financial publication wrote. "She'll likely have a tour to follow, which means big money for her - the Monster Ball Tour in 2011 grossed $239 million."
However, the publication immediately corrected its claim. "Correction: This article previously stated that Lady GaGa will release a new album slated for early October 2017," it said. "GaGa has not announced a release date for her next album."
In addition, Forbes reported that the Mother Monster wouldn't be paid for her upcoming Super Bowl halftime show. "Lady GaGa, like her Super Bowl predecessors Coldplay, Beyonce Knowles, Bruno Mars, Madonna, Katy Perry and the Black Eyed Peas, will perform for the staggering cost of $0.00 this year," the publication wrote.
The report went on claiming that Super Bowl was "the most prestigious marketing platform available today," so it would be "a very logical move as GaGa would make up for with valuable exposure." Thus, it would eventually increase her popularity as the event drew more than 100 million viewers. Even though GaGa won't be paid, the NFL will cover all of her massive production expenses.
GaGa is due to perform at the Super Bowl halftime show in Houston, Texas on February 5. Last week, she hinted that she would hit the road in support of her fifth album "Joanne" as she retweeted a popular fan account that said the album's corresponding "tour is already booked and to be [announced] after the #PepsiHalftime."