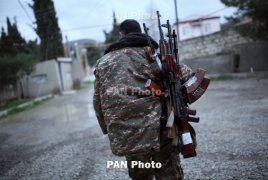 January 25, 2017 - 15:57 AMT
PanARMENIAN.Net - There is a temptation for Baku to retry launching another operation to recapture territory in Nagorno Karabakh and put pressure on the Armenian side, Senior Fellow at Carnegie Europe, British journalist and writer Thomas de Waal said in a new article, published Tuesday, January 24.
Azerbaijan on April 2, 2016 launched an overt military offensive against Karabakh, during which hundreds were killed on both sides. Yerevan and Baku reached an agreement on the cessation of hostilities on April 5 in Moscow.
"In the four-day war in April 2016, the Azerbaijani side recaptured two small pockets of territory. The psychological boost the Azerbaijanis received was far bigger. The perception of a successful military offensive helped reverse two-decades-old feelings of humiliation, and an upsurge of patriotism helped distract the Azerbaijani population from a shrinking economy and falling currency," de Waal says.
"Now that the latest diplomatic initiative, spearheaded by Russian Foreign Minister Sergey Lavrov, has stalled, there is a temptation for Baku to retry what might be called military leverage—to launch another operation to recapture territory and put pressure on the Armenian side."
The risk is that a small operation would inevitably escalate into something even more serious than last time, the author says.
"The Azerbaijani authorities would be under pressure to capture substantial amounts of territory, rather than the small slivers they took last time. The Armenians would be under pressure from their public to fight more strongly than they did last April and reverse any gains made by the other side," de Waal suggests.
"If the military context is dangerous, the political one is no better. Azerbaijan's oil boom has ended and the economy has declined further over the last year, shrinking by around 4 percent in 2016, with the manat having lost 57 percent of its value since January 2015.
"In Armenia, President Serzh Sargsyan faces a tricky parliamentary election on April 2. When the vote is completed, his country is due to make the transition to a new constitution in which executive power switches from the president to the parliament. This is widely perceived as a gambit by Sargsyan, whose second and last presidential term ends in 2018, to find a way of shoring up his own power. The switch is controversial and the opposition will use the election to challenge him in all ways possible.
"A final factor of instability is international turbulence—the election of Donald Trump as U.S. president, ongoing crises in the EU—which is being felt in the South Caucasus and could encourage the parties to behave more irresponsibly and believe they can get away with more.
If there is fighting, it will be hard to manage. In April 2016, Moscow negotiated a verbal ceasefire between the parties. But it is a misconception that Moscow is pulling the strings in the Karabakh conflict. Moscow has never been in control since the dispute broke out in 1988, having tried variously to back one side or the other or to mediate. Currently, Russia is highly distrusted in both countries and neither Baku nor Yerevan will allow it to impose its own agenda on their number one national issue.
In short, the threat of preemptive violence over Karabakh needs to be met with intense preemptive diplomacy. A descent into new conflict in the South Caucasus is the last thing anyone wants—least of all the ordinary Armenians and Azerbaijanis who will be caught in the middle of it.