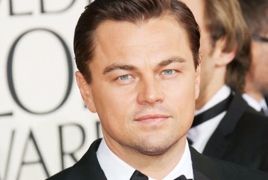 February 1, 2017 - 10:34 AMT
PanARMENIAN.Net - Leonardo DiCaprio will star in a movie inspired by Stephen Talty's non-fiction book "The Black Hand". The book follows the attempt of NYPD cop Joe Petrosino to pursue The Black Hand, one of the most ruthless Italian gangs in history, AceShowbiz said.
The gang was considered as the precursor of mafia in America and emerged at the turn of 20th century in the U.S. They kidnapped people and demanded money from their families. Italian families loathed and feared them, but despite their fear, they helped Petrosino behind the scenes. Petrosino even worked with Italian law enforcement in his mission, and his task took him all the way to Sicily.
Petrosino, dubbed as an Italian Sherlock Holmes, had arrested dozens of criminals and deported them during his life. He by far was the most famous cop who was in pursuit of arresting The Black Hand.
The movie will be produced by Ellen Goldsmith-Vein and Jeremy Bell of The Gotham Group, as well as DiCapprio's Appian Way, Deadline reports. Jennifer Davisson and Nathaniel Posey will serve as producers. They are currently looking for a scriptwriter to adapt the book.
DiCaprio recently appeared in 2016's "Before the Flood", a documentary about climate change. His will star in "Sam Phillips" as the titular character, a 1950's pioneer who helped Elvis Presley, Johnny Cash and Jerry Lee Lewis in their careers. The movie is based on Peter Guralnick's book "Sam Phillips: The Man Who Invented Rock 'N' Roll". DiCaprio's production banner Appian Way is also teaming up with Glen Powell to develop "Captain Planet" reboot.